Surviving the Extremes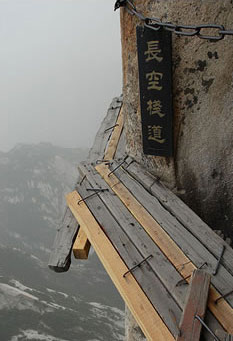 Alright, so it's been a while. I get it; you're dying for an update. Here it goes… For sometime I have been reading this particular blog about a computer programer that does a lot of traveling. There is a specific post about a pretty cool mountain trail this guy completed called Mt. Huashan (picture to the left – would you hike it?). Reading the posts sparks an interest I have always had: being able to travel in my spare time (which will be pretty rare in the next several years). However, the dreams are not smothered by my dreams of being a physician. In fact, there are plenty of physicians that do humanitarian work in developing countries. I met a doctor, Ashis Brahma, at an international health conference at Yale back in 2005 that essentially lived in conflict-torn regions of Africa. When I was deployed, I read a book about an Orthopedic surgeon that did a lot of wilderness expeditions. He even took time off during residency to climb a mountain in Puru. Lets just say, that probably wouldn't fly at most programs.  "Surviving the Extremes" by Kenneth Kamler,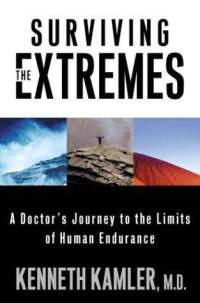 goes into the science and physiology of what occurs to people that live in those treacherous and basically inhospitable environments. He breaks down being shocked by an electric eel in the amazon, high altitude pulmonary/cerebral edema on Mt. Everest, hallucinogenic herbs that are used for medicinal purposes, etc. Anyway, the books just keeps the hopes alive of once every several years, taking an extreme trip to an extreme location. Oh, I finally bought a DSLR camera too, similar to the one I mentioned a few months ago.  I snagged it off a US Treasury repossessed auction site. I guess if I find out I don't have enough time for the photography hobby, I can resell all my gear on ebay and make a little profit! However this semester, Cait and I will probably get some use out of the camera.  We have trips planned for Tampa (and surrounding areas), the Smoky Mountains, and Chicago! I'll update you with some pictures from the camera as soon as it comes in!